Mother's Day is the best time of the year for us show our appreciation to these remarkable women for teaching us, protecting us, loving us and, of course, giving us life! It is symbolic that this day falls in spring, when nature reawakens, the sun grows warmer, and flowers blossom all around us. This is a time of renewal, when life is restored, spirits are lifted, and the earth becomes almost a second mother to all of us.

The magic of this life-giving love and energy is captured perfectly by this traditional hand-painted lacquered box. For many centuries, Ukrainian masters of miniature painting have created these bright hand-crafted masterpieces. Folk masters use an ancient technique, known as "Pertykivka," to produce fabulous miniature floral paintings on lacquered wood.
What is Petrykivka?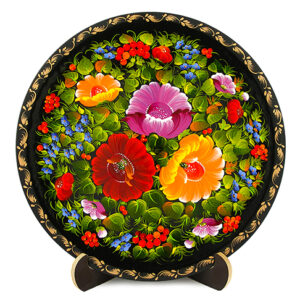 Petrykivka painting is a unique Ukrainian ornamental folk art, first used centuries ago in the central Ukrainian village of the same name. This technique is the finest example of unique Slavic art culture, creating an emotional reflection of the communion of humans and nature. Petrykivka painting combines a plentitude of plant ornaments, particularly flowers, with elements of a fantasy fauna (firebirds, phoenix or roosters) and mirrors the unity of physically real nature with the spiritual world, the idea of recurrence of life and endless rebirth.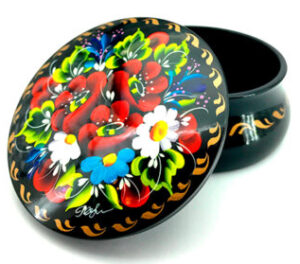 Lacquered boxes used to be in every home for centuries. Originating in ancient China several millennia ago, the art of painting on a lacquered wooden box transitioned to Japan, and then to Europe and the United States. Besides jewelry, people kept memorabilia and love letters in these boxes.
Oval, round or rectangular, big or small, there are many shapes, sizes and patterns to choose from. And now you can amaze your mother or wife with these hand-crafted pieces of art!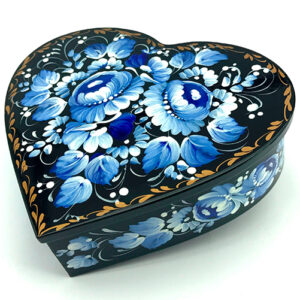 This special heart-shaped box, with a hand-painted floral design, finished with four layers of lacquer, makes a perfect Mother's Day gift that will be treasured forever!